What do rising interest rates mean for investors?
Creating value and mitigating risk in the new age of rising interest rates
At its March 2022 meeting, the Federal Reserve (the Fed) hiked its policy rate by 25 basis points and again another 50 basis points in early May 2022 while still signaling that more increases are on the way. With higher policy rates, spread product —borrowing rates that are set off the policy benchmark — have risen even further. There now exists a lot of interest rate risk that is complicating an already complex market.
At Grubb Properties, our experienced in-house Finance Team has a roster of professionals that focus on the evolving interest rate environment to ensure our loan portfolio is risk managed. Our team deeply considers the debt requirements of a particular project as well as the entire loan portfolio. The result is a portfolio that protects our assets for the long term and applies the best financing structure to each project. This adds value in all interest rate environments but is particularly impactful in one where the risk-free rate is rising.
Download our new paper to learn about the three basic reasons that interest rates rise, the unconventional way we consider our debt portfolio, and how we aim to grow – and protect – investor capital.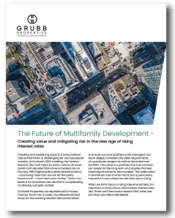 Explore Our Essential Housing Blog